ROSYAN BOOKKEEPING SERVICES
Your affordable Bookkeeping & Consultancy Services.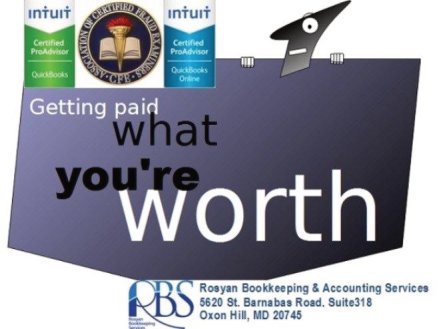 Wow, The Busy Tax Season is over; we're back to Normal Business Activities. I would like to share with you, how you can always be in Demand and get paid what you're worth.
I visited an Eyebrow Threading Specialist recently and was amazed at how she attended to her Clients and the artistic way, she used the popular Thread, that we're all used to shape her Clients' Eyebrows. This was so amazing to me and it was funny, that as simple as it looked, she was making "Big Bucks" from this Trade, with all the Clients waiting to have their Eyebrow shaped and to think, that was all she did for a living was even more thrilling.
This led me to one Conclusion - "To Get paid what you're worth, You have to Become a Master at One Thing". Seriously, Take the Best Skill that you have today - Whatever it is - And Become a Master at it. Don't worry about how little or insignificant, you think it is.
Study It.
Practice It.
Perfect It.
Perform It.
There's No Excuse- Anyone can master One Thing, if they put their mind to it; Our Brain has been programmed this way. When you do, you will be surprised at how soon you'll earn a Reputation for that Skill. It may be as Simple as the Art of Eyebrow Threading or being an expert in Numbers (Like Yours Truly).
Above All, When you master that One Skill, People will take you seriously and you will become more valuable to your Business, Clients, Employers, Customers and your Boss. And Guess What- When you become more valuable, I guarantee you - YOU WILL NEVER HAVE A PROBLEM WITH COMMANDING YOUR WORTH AGAIN.
I challenge you today, to put into practice everything that I have stated above and watch your Earning Power Grow.
At Rosyan Bookkeeping & Accounting Services, We know Our Worth and Our Clients Value us. We know our Specialization and we are Proud to flaunt it. Give Us a Call Today and you'll be Glad you did.
 It's already the eighth month of the Year, We are gradually getting to the end of the year, and soon it will be time for Year End Reports. In our last Newsletter, We discussed the concept of Cash Flow and how it affects our Business Operations; this month, we will be looking at tips to manage our Business Cash Flow.

  Being in Business for yourself is like being an Air traffic controller, especially in the area of cash flow management ; You can imagine trying to control 100 Airplanes landing simultaneously on two runways; this can be an upheaval task, but we regularly see clients line up their monthly bills, their projected income, business projects and business expenses and try to combine all these activities, at the same time, trying to ensure a steady cash flow into the business; you can imagine, the projected outcome, if all these activities are not properly coordinated.

  Cash Flow is the heartbeat of every Business, and if a Business does not have the cash on hand to pay their vendors, they will definitely run into problems. The main Cash Flow Problem, that Business Owners face is as a result of Lack of Creative Cash Management. Below are some Tips to overcome the Ups and Downs of Cash Flow Problems in your Businesses:

1) Always Schedule All Payments: Most Business Owners line up their monthly bills, compile them, sit down and issue all the checks and set up Bill Payments at once; but the trick is to have a " Holding Pattern". It is advisable to schedule each payment, in order to get to your vendors in a timely landing, without affecting other Cash Flow activities. 
  Every Business has Three (3) tiers of Checks Disbursements Groupings:        
a) Must Pay Group- These are payments that can hurt you, either in cost or ability to operate your business, if they are not paid. These include items like Taxes, Rents, Payroll and Service Charges.
b) Important to Pay Group - These are payments, that have a reasonable grace period, and if not paid, a financial penalty can be incurred, as a result of Nonpayment. These include Utility Bills , Credit Card Payments and Insurance Payments .
c) Flexible Payment Plan Group - Suppliers, Vendors and Wholesalers, that supply most Small Businesses are the best sources of flexible credit financing. Most of them will continue to work with you, if you arrange a regular payment plan with them.
Tip #1: Try to schedule Payment Dates, into the Three (3) tiers of Checks Disbursements groupings and issue check/Bill payments accordingly.
2)  Make Payments on your Revenue, not on uncollected Sales : I am sure, that none of us will want to land a plane, hoping that the runway is beneath us in the fog bank, as also Business owners, it is not advisable to make projected payments on uncollected revenue. You may wander, what happens to Credit Facilities, Guess What, Most Credit Facilities still have a timeline for payment.
Tip #2: Always prepare your Cash Flow Statement and financial reports, and review them periodically, to have a full knowledge of your Cash Flow.
3)  Do not use Payroll Taxes to float your Business Operations: Studies have shown that most Business Owners use the Tax liabilities, collected during payroll, to float their businesses, rather than remitting the payments to the appropriate Tax Authorities. They don't realize that they spend more in potential penalties, fees , interests, time and aggravation, if they engage in this act. Tax Liabilities grow, if they are not remitted at the appropriate timing.
 Tip #3: Try to discipline yourself to deposit the payroll tax money collected, into a Separate Bank Account, until you are ready to remit the payments.
4)  Establish Relationships with your Credit Provider: It is very important for every business owner to plan for a rainy day. Having a great relationship with a vendor, that gives you a credit facility, avoids cash flow storms, which might bring in a sense of desperation or lack of control. 
Tip #4: If you work with a quality company, that provides working capital or credit facility, stick with them and build a relationship, once they know your credit worthiness, they will be there to help you quickly, in times of need.
 5)  Invest in a Good Bookkeeping/ Accounting Service: It is important for Business Owners to have a grasp of their cash flow and understand the effect on their business growth. A Good Bookkeeping service is invaluable to your business, particularly in preparing your monthly financial reports and cash flow statements, which will help you, see how your Business is doing as well as maintaining your Business Cash flow. 
 Tip #5: Rather than worry about how to prepare your company financials and your cash Flow Statements, as well as trying to figure out, the amount of Payroll taxes to pay; let the professionals handle it.
  Understanding and Managing Cash flow has been a challenge for many Business owners, but with the application of these tips, it is possible to grow your Business to a greater level , and also have enough funds for other activities, that will bring more revenue into your Business.   
  Please feel free to contact us on 202-422-4586, if you will need further help on how to manage your Business Cash flow and financial Reports. We will love to help you. Remember: The best time to take control of your Cash Flow is RIGHT NOW.
Recently, I was discussing with a friend, who was competing with her sister in selling their hand made beads. The conversation was about raising her prices from ten cents to twenty five cents per bead. I asked her what she needed to achieve from the increase and what areas of her life, that she feels the increase will make an impact, hence asking her the five most important things that matters to her in life.
She thought about it, looked at me and said in this order: "First, My Family, then My House, Television, Candy and then Money". Impressed that she had come up with exactly five items, I probed a little deeper.
"Mary, what do you need to get the candy that you love?'
"Money", she said.
"And how about the TV, what do you need to get that?"
"Money"
"And how about your house?"
"Money", she replied once again.
 And then I asked, "How about your family, what do you need to get them?"
Just as quickly, she replied, "Love"
"That's right, "I said, but don't you think that maybe you have to reorder your list? You see, if you need money to buy the candy, the house and the TV, then don't you think money should be more important than what it can buy?
In that instance, she thought about it and said, I was right, and within that short period, I introduced her to the law of money, a law that serves as the foundation for wise spending.
THE LAW OF MONEY: PEOPLE FIRST.THEN MONEY.THEN THINGS
You see, most of us are just like Mary, we value things more than we value money. We care more about having what money can buy than we care about having money itself. When we follow the law of money, we will find out that, we are respectful of money, and if we follow it and keep what we have and spend, it will make us truly rich. We will analyze each category:
     PEOPLE FIRST: We should always prioritize everything that is created by love, which include our Family, Friends, Partners, Children and Ourselves. The saying that goes that Money can't buy love is true, and a life without love –regardless of how much money one has-is a poor life indeed.
      THEN MONEY: Can you imagine going to someone's  house and having them proudly show you a room filled with thousands of dollar bills and telling you the history of how all that money came to be? You will be amazed at all that vulgarity, but at the same time, you will think nothing of it, when you compare it to another person's home that is filled with beautiful decorations, What did it take to decorate the home? Money. Money exchanged for furniture, paintings, carpeting, lamps and so on.
The difference in your perception is the VALUE SYSTEM that you applied- A Room filled with things is okay, whereas a room full of money is not.
       THEN THINGS: When your financial priorities are in order; things come last.
     In conclusion, when we work hard for our money, maybe forty hours or more a week and then go shopping, buy food, clothes and stuff, we usually say that we don't know where the money went. This is also applicable, when we pay for services, that we really need; but why don't you consider this- CHANGE your perspective now, if we valued money over things and over items it can buy, then we would know exactly where our finance is going.
We should change our money/thing ratio, so that we will have more money than things, this will also encourage us to take great pleasure in seeing our money and watching it grow. With this approach, we would always know when we can afford something that we need and will be more likely to be able to buy the things we TRULY WANT to make us happy.
So next time, you go out to spend money, always remember that you are not throwing the money away, but you are exchanging it for something that has a value to you.
Please feel free to give us a call today to get your finances organized, so that you can capture where your expenses are going and invariably increase the value you need for the important areas in your life.
/