ROSYAN BOOKKEEPING SERVICES
Your affordable Bookkeeping & Consultancy Services.

We grow up in life, structured to believe that, after we go through the school system, we graduate to work for Organizations. We often fail to realize that, we can use our knowledge and experience to start up our own Businesses, especially when most companies rarely allow their employees to become Business Owners. As individuals, we need to harness our passion and recreate the relentless entrepreneurial spirit in us, to launch us to where we are meant to be. 
Everyone is born with a gift; each of us has a passion and something that we are all excited about. The idea is to turn this passion into an entrepreneurial opportunity, where you can turn your passion into a money making machine. Everyone has an innate entrepreneurial ability; it's how we harness this ability that determines how we make progress in life. 
The basic reason, why most of us fail to harness our entrepreneurial ability is because we feel safe in our jobs. We have become comfortable with our safe salary increases that will never get us where we need to be.  Do you know that you can use your free time, imagination and your creative skills to deliver value that nobody has ever delivered in the history of Mankind?
You need to step out of the prison imposed on you from the Organization; you work for and create an abundant life for yourself. Abundance only comes when you are moving along your passion. 
Below are some of the Skills needed to develop the entrepreneurial ability in you:
1) The Ability to have ideas.
2) The Ability to execute on the ideas.
3) The Ability to sell the Ideas.
4) The Persistence to keep learning as you fail.
5) The Ability to move onto the next Adventure. 
I always advise recent college graduates entering the exciting world of professional services to consider themselves entrepreneurs on day 1.  You have to identify your passion and the specific area that you want to develop yourself in life; find other People within this field and learn from their expertise. Networking is also very crucial as well as connecting with others. Although they may not realize it now, the professional service industry is one of the few that allow employees to eventually become business owners. Even if they have no intention of becoming a partner or starting their own firm, it is important for young professionals to distinguish themselves by creating a personal brand and an entrepreneurial spirit within their profession. 
Below are some steps to Turning your Passion into Entrepreneurial Opportunities: 
Find Your Niche
Like most entrepreneurs, you need to find your niche - a specific area that you are passionate about. This could be anything from Handmade Jewelry, Accounting, wealth management services, or even insurance sales. Finding the right niche is the first step to building any entrepreneurial endeavor.
After realizing what area of your profession interests you, it is important to find others within it and learn from their expertise. Networking is crucial and connecting with others is a sure fire way to broaden your horizons. At the initial year of my Accounting and Bookkeeping Business, I had a mentor that coached me, taught me the nits and grits of the Business and molded my path in this Business line, and I give credit to him for this direction. I must say, that all that I learnt from him, is what has helped to mold me into what I have become today.
Develop Your Skills and Knowledge
For you to turn your passion into an entrepreneurial opportunity, you need to immerse yourself within everything that pertains to it, attend seminars, talk to future competitors and analyze barriers to entry. If you want to develop your skills you will need to train others, as this will eventually help to develop and strengthen your knowledge and perfect your skills.
Build Your Brand
Personal branding is a must for turning your passion to entrepreneurial opportunities, especially in an age when professional service is becoming a much needed commodity. In order to leverage in your industry, you need to set yourself apart by leveraging your personal brand.
The first step to building a personal brand is considering yourself and your "turned passion" as a product. You need to ask yourself many questions before building your personal brand:  What is your value proposition? Why should people buy your product?  What can you bring to the Table? Who are you trying to target?
Don't Wait For Opportunity: Create It
Once you determine your personal brand, you have to go out and create your opportunity. The biggest stumbling block to launching your own Enterprise is waiting for opportunities instead of creating them. Allowing others to dictate your success in any specific profession is a sure fire way to guarantee disappointment. If you keep sitting and waiting for someone to hand you a promotion or give you that well deserved pay raise at your job; it is akin to doing the same thing over and over again and expecting different results – its insanity.
Summary
In conclusion, to make it ahead in a competitive world of services, we need to distinguish ourselves among our cohorts. Be an entrepreneur at work, Take Control of who you report to, what you do and what you create.  Deliver some value - any value - to somebody, anybody and watch your value compound into a career - Your Desires Entrepreneurial Opportunity. Following the simple steps above can make all the difference and create a huge impact your life. 
So, what are you waiting for? Go ahead and Turn your Passion into a Business and watch your Business Grow.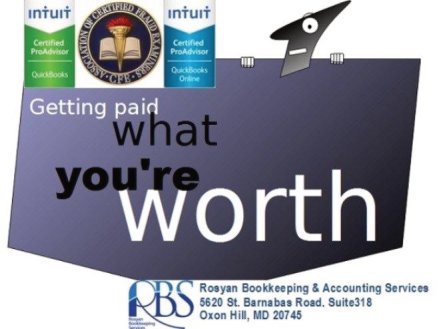 Wow, The Busy Tax Season is over; we're back to Normal Business Activities. I would like to share with you, how you can always be in Demand and get paid what you're worth.
I visited an Eyebrow Threading Specialist recently and was amazed at how she attended to her Clients and the artistic way, she used the popular Thread, that we're all used to shape her Clients' Eyebrows. This was so amazing to me and it was funny, that as simple as it looked, she was making "Big Bucks" from this Trade, with all the Clients waiting to have their Eyebrow shaped and to think, that was all she did for a living was even more thrilling.
This led me to one Conclusion - "To Get paid what you're worth, You have to Become a Master at One Thing". Seriously, Take the Best Skill that you have today - Whatever it is - And Become a Master at it. Don't worry about how little or insignificant, you think it is.
Study It.
Practice It.
Perfect It.
Perform It.
There's No Excuse- Anyone can master One Thing, if they put their mind to it; Our Brain has been programmed this way. When you do, you will be surprised at how soon you'll earn a Reputation for that Skill. It may be as Simple as the Art of Eyebrow Threading or being an expert in Numbers (Like Yours Truly).
Above All, When you master that One Skill, People will take you seriously and you will become more valuable to your Business, Clients, Employers, Customers and your Boss. And Guess What- When you become more valuable, I guarantee you - YOU WILL NEVER HAVE A PROBLEM WITH COMMANDING YOUR WORTH AGAIN.
I challenge you today, to put into practice everything that I have stated above and watch your Earning Power Grow.
At Rosyan Bookkeeping & Accounting Services, We know Our Worth and Our Clients Value us. We know our Specialization and we are Proud to flaunt it. Give Us a Call Today and you'll be Glad you did.
Every Business Owner wants to build and acquire wealth for their Business. Every Business owner wants to grow and expand their Business, as well as ensuring that the Business has an intangible value (Goodwill).  Are you Building Wealth for your Business? Do you have steps in place to building wealth for your Business?  There are 5 Basic Rules to follow, when you want to build Wealth for your Business. These Rules have been proven to work, no matter your Company Size and they are as follows:

1) REDUCE YOUR EXPENSES : Every Business Owner must have control over their spending. The Key to reducing your Expense is to ask 2 Pertinent Questions:
 a) How much do you NEED each month to run and maintain your Business?
 b) How much do you ACTUALLY SPEND each month to run and maintain your Business?
As a Business Owner, In order to answer these Questions you will need to have a form of Accounting and Bookkeeping software, such as QuickBooks, to give you an accurate answer. QuickBooks helps to track your income, as well as your expenses, thereby giving you an average total cost for each of your expense for the month. It is advisable for every Business owner to get the QuickBooks software. This is the first step to building wealth for your Business.

2)EXPAND YOUR BUSINESS EARNING CAPABILITY:  It is important for every Business Owner to ensure that there is a consistent supply of Cash flow into the Business. It is a fact, that every Business has opportunities to earn more.  As a Business Owner, you always have to seek for various ways, that your Business can make money for you. There should be various ways to diversify and expand your Business. For instance, An Optometrist Business Owner can see patients and charge for his Services, as well as selling the Eye Wear Frames in his practice, so that his patients can select and buy their frames from the Practice. By this, the Practice makes money from the Services & Examination, as well as Selling of Eye wear Frames. Basically, Earning More is the Simplest Way to build wealth.

3)PAYING OFF YOUR BUSINESS DEBT: Business Debt can be incredibly useful, but most people are not aware of its dangers. Debt is a thief of Income. When a Business is in debt, every extra income, that the Business generates goes towards paying off the Debt, and this eludes the Business Owner into thinking that the Business is not making money. It is a fact, that Business Loans, Credit Cards and Mortgages are powerful financial tools, necessary for any Business to function, but by any means, Always endeavor to pay them off. It is advisable to have a Plan to pay off your Business debt. Remember, that Every Debt paid leaves room for your Business to save more and this is a strategy to amass wealth.

4) INVEST: The quickest ways build wealth is to Invest, therefore, it means that the quickest way to build Business Wealth is to put your Business Money into Investments that earn less than Inflation. The Long term returns from the U.S. Stock Market is right around 7% (Inflation Adjusted). Although, it is not unheard of, to get 12-15%. The real trick is Time in the market, to allow the returns to compound.  Investing your Business Money does not require a fat stack of Bills, to get started. The Key to Investment is Instant Diversification and Instant Exposure to the returns of the market and exceptionally low costs.

5) GET A BOOKKEEPER/ ACCOUNTANT: Let's face it..... Most Business Owners mess up with keeping the Accounting Records for their Business. You can argue with me all you want, but we both know that every single year, when Tax Time rolls around, you run around to look for Bookkeepers/ Accountants. Get to know these facts:
Do you know that, every Minute, that you are on QuickBooks, trying to figure it out, is a minute that you are not doing Business stuffs that MAKES you the money?
How can you build Wealth when you are wasting your time on what you are not competent on?
Do you know that if you don't maintain your Accounting Records, there is a high chance of you facing an IRS Audit?
Do you know that an IRS Audit can lead to confiscation of your Assets, as well as placing a Lien on your Bank Accounts and Properties?
 As a matter of fact, Getting a Bookkeeper/ Accountant is the most important way for you to build up your Business Wealth. Make a Decision Today to get a Bookkeeper/ Accountant, who will help you stay on track all year long.

We hope that as a Business Owner, you can implement any and if possible, all of these rules and build wealth for your Business. If you do need help in implementing any of these, We will be happy to help you out. Give US a Call today on 202-422-4586. You will be glad you did.



The Warmer Weather has finally arrived; soon it will be summer. Most Business Owners let down their guard, let go on Vacations and have Fun. Coincidentally, it's also a time that Online Scammers and Hackers get active and keep their eyes looking for Accounts to hack and tamper the unfortunate company Account Holders.

Our Discussion today focuses on an area that is passionate to my heart. As a matter of fact, I look forward to a day, that every company will be devoid of fraud. Technology has given fraudsters an edge in recent years, and we see a lot of fraudulent activities and online attacks on most Business Account. There are majority of fraudsters out there that are using the basic scams to de-fraud merchants, because there are too many Businesses that are not doing anything to stop them.

The Purpose of this Write-up is to provide information on the various types of Account Frauds that exist and how to prevent these online fraudulent attacks on your Business. The Online Frauds are as follows:

 1) Morphing Fraud (Repeat Offenders): This is common in online customer sales businesses. The Fraudster hits a Single Merchant, multiple times using slightly different data points each time; A Multiple Purchase is made from your Business site within a short time frame with a number of different credit cards. In this Case, All of the Goods will be going to the same location, but all of the other data may change between purchases.

2) Skimming:This is where the Debit/Credit Card Numbers are being accessed in common places like Restaurants, Bars, Hotels, ATMs and Airports. The Fraudsters place fake devices in these locations or sites, where an accomplice or entire staff unknowingly swipes each credit card that is entered. Afterwards, these Numbers are collected and sold.

3) Debit Card Fraud: This occurs when a criminal gains access to your debit card number, to make unauthorized purchases and/or withdraws from your Account. When your Debit Card is used fraudulently, the money is missing from your account instantly. Recently, We had a case of client, whose Company Account was continuously charged an unauthorized amount for 6 months, and the Client innocently thought the charges were for services, he had signed up for, until his account was reviewed and he found out that they were fraudulent online transactions.

4) Identity Fraud: A Case of Identity Theft is being reported every 19 Seconds since  the Year 2001; It occurs when someone's personal information is stolen and a credit card account is opened in the victim's name, without their permission , and charges are made to these account. It is worthy to note that identity fraud does not necessarily occur, when a credit card is simply stolen.  

Having looked at the most common types of Online Fraud, We have listed below the steps to prevent your account from being attacked.

             Avoiding Online Fraud:
Cultivate a Habit of Reviewing your Statements: Every Business Owner should regularly check their Bank Statements, Credit Card/PayPal Statements, and keep a lookout for any strange activity. If anything seems out of place, contact customer service immediately and ensure that nothing is wrong. This is how we saved a Client thousands of dollars, which hitherto had been deducted continuously for 6 months from his Business Account.
Maintaining a Good Bookkeeping System: When we maintain a good Bookkeeping Record, We are able to quickly detect any fraudulent and suspicious activities, and get them resolved immediately. This also helps us to save on unauthorized expenditures, as well as increasing revenue on the bottom line.
Use Separate Email Accounts: This is an important email security tip that seems like a hassle but can prove worthwhile in the long run. It is advisable to have more than one Business Email Account, through which you can log on to your financial information. For many of us, Our Businesses are the gateway to other online accounts. If a company is hacked and someone gains access to your inbox, they are one step closer to everything else.
Use Multiple Payment Methods: It is better to split your funds between multiple sources; this can help protect you against losing everything at once. For instance, if you purchase eBay Goods with PayPal and EBay is hacked, only your PayPal Account is at risk. This is not necessarily a catch-all solution, since if you have one credit card, you don't really have a choice but to use that particular card. But, it's a general rule to diversify whenever possible.

Don't Save Personal Information: It is best to avoid storing your personal details, like card Numbers on Bill Payment Services. Everyone believes that it's a stress to put it in the information, every time you want to make a payment, but it's also safer.
Protect your Computers: Use Firewalls, Anti-virus and Anti-Spyware Software on your computers and keep them updated regularly.
Beware of Unsecured WI-Fi Hot Spots: As Individuals and Business Owners, We should be discreet about opening our Bank and other secure information websites in public places. The connections used in these places are mostly insecure. It's fine to check weather, social media but not Bank Accounts and statements in public places, not even when we are using our Hot Spots.
Use a Strong Password: This will prevent hackers from right-guessing your password. It is an obvious fact, that Humans get password-lazy, so they re-use their password and use them for multiple accounts. Don't Re-Use your passwords. Most importantly, Passwords are your first line of defense. It is a strong way to protect yourself.
        Finally, it is worthy to note that the most effective way to prevent fraud is to be proactive in the design of your strategy.  It is really scary to consider the damages.

What Strategy have you put in Place to prevent your Personal and Business Account from being attacked? Think about this and Act Immediately. If you need help with setting up a Fraud Resistance Accounting and Bookkeeping Strategy, we are just a Call away. We would love to hear from you.
  -Understanding the Myth of Profits.
  As a Business Owner, Have you ever wondered why you cannot seem to get hold of your profit? Most Business Owners ask the question....." I see that I made a Net Profit of $XXX, but where is it? ".We have been looking at the topic of profit making, and this topic is a great mystery in Businesses.
  We agree that making Profit is a good thing and a negative profit (Loss) is not a good one; however, the mind game begins when there is profit, but no money in the Checking account. Do you also wonder why you don't go out of Business, when your Profit & Loss Statement keeps showing a negative profit (Loss)?
  The Answer is simple: PROFIT IS NOT CASH.
  The most important fact to remember about Profit is that, Profit has no connection to how much Cash is in the bank. A Profit and Loss Statement shows the movement of transactions, which occur in your Business for any given period (monthly), and the total net effect of these transactions constitute the balance that you see on your reports.
   An Example is when you enter a Business transaction, and an invoice amount of $3,000 is created in your Books, your Profit and Loss Statement shows the Sale and Resulting Net Profit, but there is NO CASH, until the invoice is paid; this money remains in your Account, only for a period of time, because when you pay your vendors or make your Bill Payments/Loan Payments, the money is being used up.
  Let's take a Loan Payment as another example; Most Business Owners forget that only the interest portion of a Loan Payment appears on a Profit & Loss Statement, while the Principal portion of the transaction occurs on the Balance Sheet. In this case, another portion of profit has been used to pay the principal.
  In conclusion, It's not Magic...........It's just having a basic understanding of how transactions occur in your Business and its effect on your Profit & Loss Statement, as well as your Balance Sheet. The Ultimate Goal is to make better financial decisions. However, take Note, You can be profitable and still be broke (Did I hear someone scream?). Turning Profit into Cash is the secret to managing your Net Profit Balances.
   Our Next Newsletter will feature, how you can turn your Profits into Cash; if you need help with understanding your financial reports, why don't you give us a call? We would be glad to help you. 
  Profitability is a key driver of financial success in business. The goal of every Business owner should be to make profit and improve their business to make it better.
  If you were having a discussion, one year from today, and looking over your financials, Will you be happy with your financial progress? This question should propel you to take action, about what you expect your profit to be for the year.
  Profit is like a car,that must be driven; it does not drive itself; for you to get a projected profit, you have to be on top of your profit expectations. I have listed some questions, which should stimulate you to focus on an expected profit, as the year is coming to an end:
What do you expect your profit (taxable income) to be for this year?
Is this level of profitability above-average for your industry?
What percent of revenues does your profit represent?
Is your expected profit up or down from last year?
How much of your profit will be converted into cash this year?
  As you go through these questions, you're painting a picture of what your financial success should look like, and this will lead you to action, for an end result. Having a picture requires taking action to actualize your projected expectations. These steps below will help you achieve your financial profit picture, feel free to put them into practice and see the transformation, it brings to your business:
  1)  Have a Target Goal: You need to have a financial goal for your business at the beginning of every year. The Goal can be broken into monthly, quarterly and semi-annual financial targets. It is advisable and easier to have a monthly target.
 2) Monitor your Progress: Once you set your financial goals, you will need to monitor your progress, against your target every month. You can only monitor your progress by examining your monthly financial reports (Profit & Loss/ Balance Sheet Reports). If you have not been preparing your report, this should be a good time to start.
3)  Adjust: At the end of every month, you need to review your target goal against your actual results (financial reports), and decide if you need to make changes, in your business, to achieve your targets. The changes can be in form of reducing an expense category to putting a plan in place for faster accounts receivables process.
 This is the secret to creating your financial success for your business. I challenge you to put these into action and watch your business achieve your desired projected profit.
 Do you need help with interpreting your financial reports? Perhaps you are yet to prepare your financial reports for the year, and don't have an idea of your actual profit; Call us NOW for further consultation and Assistance.
 We will be glad to help you.
/