ROSYAN BOOKKEEPING SERVICES
Your affordable Bookkeeping & Consultancy Services.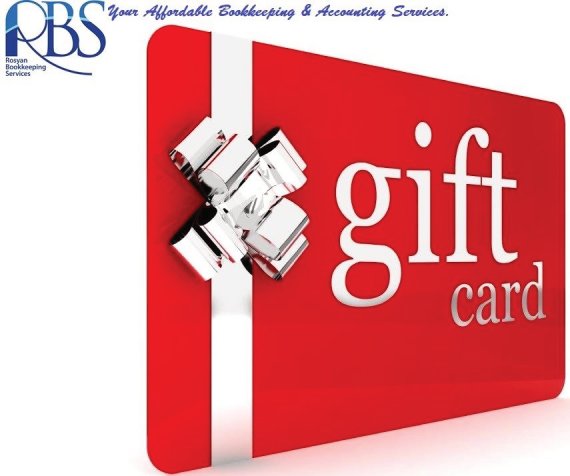 Holiday Season is here and it's the Season of Giving. What Gift do you give, when you don't know what to buy? Gift Cards, Of Course!!!
The Better Business Bureau (BBB) is warning us of a Gift Card Scam going on at this period. Gift Card Scams are very popular and occur because Gift Cards are left out on the racks unattended. 
So, What Can you do to protect you from this Scam? Read on for Tips to guard you against Gift Card Scams:
•  Buy Gift Cards from Reputable Stores/Companies that offer Guarantees.
•  Grab a Gift Card from the Middle or Back of the Display and not the Front Row. Some Thieves remove Gift Cards from a Display, record the Card Number and put it back on the Display, waiting for a Customer to buy the Card, while checking regularly online for a Dollar Balance to appear, for them to use the Card.
•  Inspect the Gift Card Packaging before Purchasing. This helps to avoid tampered peeling. Some Manufacturers have been adding special packaging or scratch off Pin Numbers to prevent thieves from being able to look at the cards and stealing the Numbers.
•  Check the Activation Receipt for Matching Numbers and Amounts.
•  Only Check the Balance on your Gift Card through the Site listed on the Back of the Card itself, and if there is none, Go to the Website of the Company and look for a link to the Gift Card Page.
Feel Free to Share and Spread the Message against Gift Card Scams. Enjoy your Holidays. 
The Warmer Weather has finally arrived; soon it will be summer. Most Business Owners let down their guard, let go on Vacations and have Fun. Coincidentally, it's also a time that Online Scammers and Hackers get active and keep their eyes looking for Accounts to hack and tamper the unfortunate company Account Holders.

Our Discussion today focuses on an area that is passionate to my heart. As a matter of fact, I look forward to a day, that every company will be devoid of fraud. Technology has given fraudsters an edge in recent years, and we see a lot of fraudulent activities and online attacks on most Business Account. There are majority of fraudsters out there that are using the basic scams to de-fraud merchants, because there are too many Businesses that are not doing anything to stop them.

The Purpose of this Write-up is to provide information on the various types of Account Frauds that exist and how to prevent these online fraudulent attacks on your Business. The Online Frauds are as follows:

 1) Morphing Fraud (Repeat Offenders): This is common in online customer sales businesses. The Fraudster hits a Single Merchant, multiple times using slightly different data points each time; A Multiple Purchase is made from your Business site within a short time frame with a number of different credit cards. In this Case, All of the Goods will be going to the same location, but all of the other data may change between purchases.

2) Skimming:This is where the Debit/Credit Card Numbers are being accessed in common places like Restaurants, Bars, Hotels, ATMs and Airports. The Fraudsters place fake devices in these locations or sites, where an accomplice or entire staff unknowingly swipes each credit card that is entered. Afterwards, these Numbers are collected and sold.

3) Debit Card Fraud: This occurs when a criminal gains access to your debit card number, to make unauthorized purchases and/or withdraws from your Account. When your Debit Card is used fraudulently, the money is missing from your account instantly. Recently, We had a case of client, whose Company Account was continuously charged an unauthorized amount for 6 months, and the Client innocently thought the charges were for services, he had signed up for, until his account was reviewed and he found out that they were fraudulent online transactions.

4) Identity Fraud: A Case of Identity Theft is being reported every 19 Seconds since  the Year 2001; It occurs when someone's personal information is stolen and a credit card account is opened in the victim's name, without their permission , and charges are made to these account. It is worthy to note that identity fraud does not necessarily occur, when a credit card is simply stolen.  

Having looked at the most common types of Online Fraud, We have listed below the steps to prevent your account from being attacked.

             Avoiding Online Fraud:
Cultivate a Habit of Reviewing your Statements: Every Business Owner should regularly check their Bank Statements, Credit Card/PayPal Statements, and keep a lookout for any strange activity. If anything seems out of place, contact customer service immediately and ensure that nothing is wrong. This is how we saved a Client thousands of dollars, which hitherto had been deducted continuously for 6 months from his Business Account.
Maintaining a Good Bookkeeping System: When we maintain a good Bookkeeping Record, We are able to quickly detect any fraudulent and suspicious activities, and get them resolved immediately. This also helps us to save on unauthorized expenditures, as well as increasing revenue on the bottom line.
Use Separate Email Accounts: This is an important email security tip that seems like a hassle but can prove worthwhile in the long run. It is advisable to have more than one Business Email Account, through which you can log on to your financial information. For many of us, Our Businesses are the gateway to other online accounts. If a company is hacked and someone gains access to your inbox, they are one step closer to everything else.
Use Multiple Payment Methods: It is better to split your funds between multiple sources; this can help protect you against losing everything at once. For instance, if you purchase eBay Goods with PayPal and EBay is hacked, only your PayPal Account is at risk. This is not necessarily a catch-all solution, since if you have one credit card, you don't really have a choice but to use that particular card. But, it's a general rule to diversify whenever possible.

Don't Save Personal Information: It is best to avoid storing your personal details, like card Numbers on Bill Payment Services. Everyone believes that it's a stress to put it in the information, every time you want to make a payment, but it's also safer.
Protect your Computers: Use Firewalls, Anti-virus and Anti-Spyware Software on your computers and keep them updated regularly.
Beware of Unsecured WI-Fi Hot Spots: As Individuals and Business Owners, We should be discreet about opening our Bank and other secure information websites in public places. The connections used in these places are mostly insecure. It's fine to check weather, social media but not Bank Accounts and statements in public places, not even when we are using our Hot Spots.
Use a Strong Password: This will prevent hackers from right-guessing your password. It is an obvious fact, that Humans get password-lazy, so they re-use their password and use them for multiple accounts. Don't Re-Use your passwords. Most importantly, Passwords are your first line of defense. It is a strong way to protect yourself.
        Finally, it is worthy to note that the most effective way to prevent fraud is to be proactive in the design of your strategy.  It is really scary to consider the damages.

What Strategy have you put in Place to prevent your Personal and Business Account from being attacked? Think about this and Act Immediately. If you need help with setting up a Fraud Resistance Accounting and Bookkeeping Strategy, we are just a Call away. We would love to hear from you.
/