ROSYAN BOOKKEEPING SERVICES
Your affordable Bookkeeping & Consultancy Services.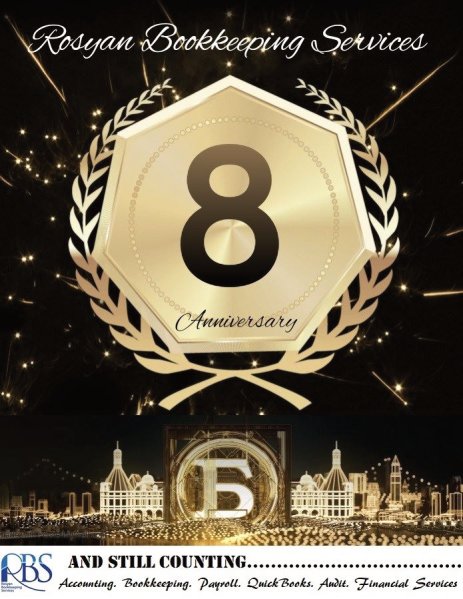 Congratulations to Rosyan Bookkeeping Services
  Today marks 8 Years of Our Company.
   Birthed from a Labor & Delivery Room
   Became a Reality at the Birth of a Third Child
   Became liberated from the High Costs of Child Care Expenses.
   Became a Business Support to many Businesses.
   Became an Employer of Labor
   Became a QuickBooks Training Center
   Became a Bedrock to Many Homes and Families.
   Became a Leading Example to Youths and College Interns.
   Became a Support to Non-Profits.
   Became a Successful Business.
   Became Hope to our Clients.
   Breaking through the Pandemic
   And Coming out Stronger......................
  To Many More Years of Business Success.
  Congratulations. 
  We are grateful to all our Clients, Colleagues and Friends. Thank you for all your Support.
 Thank you for standing with us through the Years. We know, these are unprecedented times and there are a lot of challenges during these Period, but we want you to know, that we will get through this together and come out stronger.
 Don't hesitate to call, if you need a Supportive Ear. We are a Call and a Click away. Together, we will celebrate and get through this. 
 We love and appreciate you.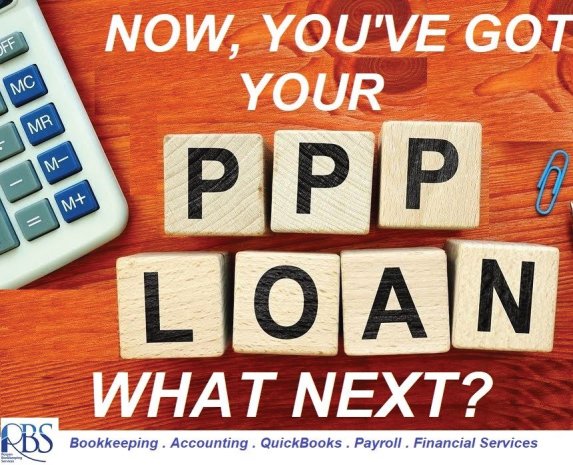 Congratulations, you filed all the Paperwork for your PPP Loan and you have received your Grant and Loan. Now is the time to start planning on how you are going to ensure you use the Funds correctly. During this Pandemic, the SBA has made efforts to make funding accessible to Small Businesses and it is important to use the Funds appropriately. 
    The PPP Loan is designed to provide a direct incentive for Small Businesses to keep their workers on Payroll. SBA will forgive Loans, if all employees are kept on the Payroll for eight weeks, starting from when the Loan is received and the Money is used for Payroll, Rent, Mortgage Interest Payments or Utilities. It is important to note that not more than 25% of the forgiven Amount maybe for Non-Payroll Costs.
  Now, that you have your Loan and have identified the time period, it's time to calculate the monthly payroll cost, to ensure your Loan Forgiveness. The Items below are the Payroll Costs to include, as well as the Non- Payroll Costs. 
        Payroll Costs: 
 1)   Salary, Wages, Commissions, Tips and Bonuses.
 2)  Owner's Draw Payments for Sole Proprietors.
 3)  Severance Pay
 4)  Paid Leave Payments (No FFCRA Paid Leave)
 5)  Employee Payments for State and Local Taxes.
 6)  Employee Payments for Federal Income Tax and FICA.
 7)  Employee Contributions to Retirement and Group Health Plans ( Health Insurance & Dental Coverage).
 8)  Payments of Interest on Mortgage Obligations. 
  Non-Payroll Costs: 
 1)  Contractor Pay
 2) Payroll Reimbursement.
 3) Owner's Draw Payments (Except for Sole Proprietors).
 4) Workers' Compensation Fees.
 5) Fringe Benefits. (Commuter Benefits, HSAs).
 6) Ancillary Benefits (Short-Term Disability, Group Life Insurance).
  Important Notes:
The SBA recently clarified that the 8 Weeks Period begins on the date, the borrower receives the disbursement of the Loan, and regardless of whether your Business has resumed operations.
No More than 25% of the Forgivable Amount of a PPP Loan can be attributable to Non-Payroll Costs.
   Actions to take immediately:
Open up a Separate Bank Account and Deposit the Loan Amount in the Bank Account. It would make it easier to track the use of the funds precisely. 
Order Check Books for this Account and Ensure the Check Payment is made from this Account.
Hire Back Employees and Restore Headcount and Wages to Prior Levels.
Maintain a Paper Folder or Electronic Folder for all PPP Expenses and Cancelled Checks. Remember you have 8 Weeks of Funding to track these costs.  Not 2 Months but 8 Weeks, from when you got the Funding. 
Ensure to pay your Rent on time. Get your Lease Agreement and Have it ready to produce, when it is requested.
Ensure to pay your Utility Bills on time and save all Bill Payments.
Make Sure to Pay ALL Interest on your Loans when Due. Although, Principal Payments are required, you are required to keep track of the Interest Payments, either with Statements or an Amortization Schedule. 
Keep a Record of the Exact Amount of Health Benefits and Pension Contributions due for the 8 Weeks. Ensure to find them, before the end of the 8 Weeks.
Get a Bookkeeper, CPA and Accountant NOW. 
         The PPP and EIDL Loan Program is one of the Greatest Investments, you have ever made as a Small Business. The Secret is knowing how to play by the Rules and is essential in using it to your Best Advantage.
     You may be proud of the fact, that you do your own Tax Filings, Payroll and Bookkeeping, but the PPP Loan and EIDL Loan is not an area, where you want to risk making a wrong decision. The Guidance for the PPP seems to be changing daily. Be Aware that Little Mistakes can cost you Big.  Whatever you do, be sure to do it under the Guidance of a Financial Advisor/Bookkeeper to help you maximize your Benefit from the adherence to the PPP Loan Terms.
     Feel Free to Reach Out to us and Let Us know, how we can assist you. We are available to help you with your Bookkeeping, Accounting and Payroll Needs. Call 202-422-4586 for More Information.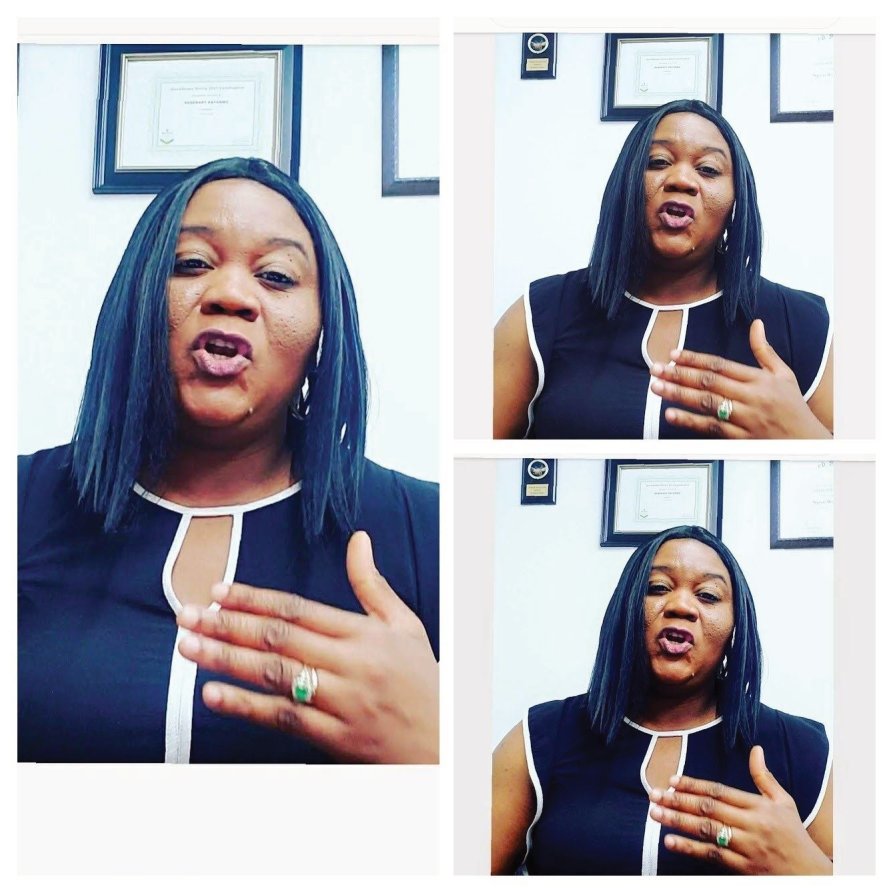 We are aware that these are unprecedented Times and there are a lot of challenges during these Period. We are encouraging you to rise above this Situation and remain confident, that you will come out Stronger, Bigger and Better off. 
   President Trump just signed off a $2 Trillion Relief Bill, which will come in form of Stimulus Checks to offer Assistance to Millions of American Household, affected by the Corona Virus Pandemic. We are aware that most of us have Questions  and we want to enlighten you more about, what in this for us.
   The Following are the Basic Things to know about the Stimulus Checks:
 Your Eligibility for the Stimulus Check is based on your 2019 Tax Returns as well as your Adjusted Gross Income. If you are yet to file your 2019 Taxes, the IRS will use the 2018 Taxes to determine your Eligibility. The IRS will only use your 2018 Tax Returns, if you have not filed your 2019 Tax Returns. 
You must have a Valid Social Security Number to be eligible for this Check. People with  ITIN Numbers and Tax ID Numbers will not be issued Checks.     
The Check Values are based on 3 Plans Income Qualification: 
SINGLE TAX FILERS - The Adjusted Gross Income Qualification is $75,000 or Less. This Category will get a $1,200 Stimulus Check.     
HEAD OF HOUSEHOLD FILERS - The Adjusted Gross Income Qualification is $112,500 or Less. This Category will get a $1,200 Stimulus Check.
MARRIED FILING JOINTLY - The Adjusted Gross Income Qualification is $150,000 or Less. This Category will get a $2,400 Stimulus Check.        
       It is important to note that if the Income Exceeds the threshold, the Amount will be reduced on a Sliding Scale. 
For Each Dependent/Child, that is Under the Age of 17 Years and Below, you will get an Additional $500 Check, for each Child. Please Note, that this is as long, as the Child/Dependent was stated in the Tax Returns, at the time of Filing. 
If a Parent claims the Dependent/Child as a Dependent and this Child/Dependent files their own Taxes, the Parent will not get the Additional $500 Stimulus Check.       
The IRS will send the Payment to the Bank Account Information, that you have on File. 
If you did not indicate a Bank Account  nor used a Direct Deposit Method for your Tax Refunds, the IRS will mail the Check to the Address on File. 
In the Event, that you have moved from the Address on File, you need to File a Form 8822 with the IRS. This is a Change of Address Form to update your Address with the IRS.
The IRS will not withhold your Stimulus Check, if you are owing Taxes, the only clause is, if you are backed up on your Child Support Payment. You may have to call the Agency, in charge to make Payments and settlement, so that you are assured of getting your Full Stimulus Check Payment. 
The Earlier you file your Taxes, the Earlier you are assured of getting your Stimulus Check.      
        We are available to help you with all the Questions, that you may have , regarding the Stimulus Check as well as any other Question on the Stimulus Package. We are also available to assist you virtually. Call us on 202-422-4586 to set up an Appointment.
      It is always our Pleasure to Help you. 

  IRS Begins Accepting Tax Returns on Monday, January 28th 2019.
  It's Official; Tax Payers should not worry about their Refund Status being affected by any Happenings within the Government.

  It is also important to note that Monday, April 15, 2019 still remains the Individual Filing Deadline for the majority of the Country, though the Deadline in Maine and Massachusetts is April 17 due to the Emancipation Day Holiday.

     Important Points to Note:
The First Refunds will go out in the First Week of February and Many Refunds will be paid by Mid- to Late February.

The IRS expects about 90 Percent of the Tax Refunds to be filed electronically. Choosing E-File and Direct Deposit remains the fastest and safest way to file an accurate Income Tax Return and Receive a Refund.

The Form 1040 has been re-designed for the Tax Year 2018. The Revised Form consolidates Forms 1040, 1040A and 1040- EZ into one Form, that All Individual Tax Payers will use to file their 2018 Federal Income Tax Return.
  We are Here to Help you with Organizing your Documents and Getting all your Business Expenses correctly and accurately deducted. This will help to reduce your Tax Liability.

 Keep Checking for Weekly Updates and Important Information, regarding your Tax Filing.

  Let the Tax Season Begin ......................................................
We are Proud to be part of a Part of the PGCC Innovation; Doing what we love to do best. Encouraging, Developing and Mentoring ; Providing Career and Internship Opportunity path. We love what we do and proud to be recognized for this Great Gesture.
Thanks to the Prince Georges Community for featuring us.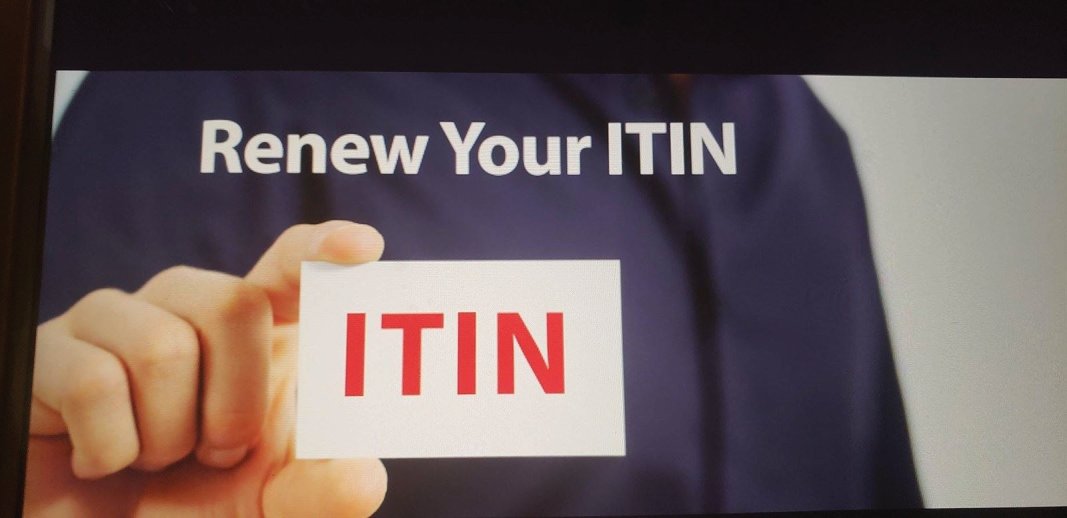 More than 2 Million Individual Tax Payer Identification Numbers( ITINs) are set to expire at the end of 2018.

* Tax Payers whose ITIN is expiring and needs to file a Tax Return in 2019 must submit a Renewal Application.

* ITINs that are affected are the ones with the middle digits 73,74,75, 76, 77, 81 or 82. ( For Example: 9NN-73-NNNN) needs to be renewed even if the Tax Payer has used it in the last 3 Years. 

*ITINS with middle digits of 70,71,72,78,79 or 80 have previously expired. Tax Payers with these ITINs can still renew at anytime.

* Acting Now to renew ITIN Numbers will help Taxpayers avoid delays, that could affect their Tax Filing and Refunds in 2019.

* As a Reminder, the IRS no longer accepts passports that do not have a Date of Entry into the US as a Stand Alone Identification Document for dependents from a country other than Canada, Mexico or dependents of US Military Personnel Overseas.

* The Dependents passports must have a Date of Entry Stamp, otherwise Additional Documents to prove US Residency will be required.

Read on and Be Enlightened. Feel Free to Share.
At the Just Concluded Intuit QuickBooks ProAdvisor Training. It was a Pleasure reconnecting with other QuickBooks ProAdvisors & Trainers - Heather Satterley & Michelle Long. 
At Rosyan Bookkeeping Services, We are always striving to do better and go higher; Learning New Skills to continually provide Excellent Services to our Clients and Fans. 
QuickBooks ProAdvisor

Rosemary Anyanwu

Training in Session.

Snapshot with Satterley Heather

QuickBooks ProAdvisor & Trainer.

Snapshot with Michelle Long

QuickBooks ProAdvisor & Trainer

Cross Section of QuickBooks Pro Advisors.

We are Great at what we do.

Training in Session.

Great Refreshing Experience.
It was a pleasure offering Quickbooks Training Services to the finance Team of RCCG Mercy Court, Towson, MD.  Great Pastor, Great Receptivity, Great People. When you have a great team, Training is a Breeze. 
#quickbooks, #quickbookstraining, #quickbookstrainer, #quickbooksproadvisor, #quickbooksspecialist, #bookkeepingservices.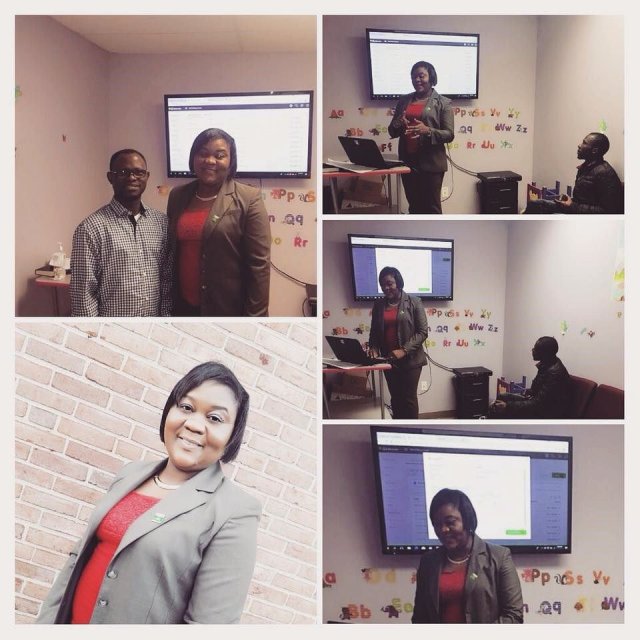 It's unbelievable to hear that People forget to claim the expenses incurred on their Credit Card during their Tax Filing; We have noticed that many Business Owners neglect to include their Credit Card Activities, which qualify for Business Deductions. This is due to Ignorance and lack of knowledge in knowing how to input this in their Accounting Software. 
Don't be left out. Do the Right Thing. Don't leave out money on the Table. Claim your Deductions and you will be better off for it. 
Merry Christmas and A Prosperous New Year 2016 to all our Current and Prospective Clients. We want our Clients and Fans to know that we appreciate them and continually look forward to a great working relationship. The Year is almost coming to an end and It's a Busy Season for everyone. As you make your Holiday Plans, Remember to close your Books and Accounting Records for the Year 2015.
We have listed some Tips to help you close the year properly, so that you can make great plans for the upcoming year:


Evaluate Your Accounting System: This is the time to start searching for a good Accounting System for the Year 2016. If you are the technology savvy person, who prefers High-tech financial management tools like Digital Vaults, Smartphone Apps, QuickBooks or Peach Tree, you will need to evaluate your system to confirm if it has worked for you. If you are the Old School of thought that prefers the Shoe Box, Envelopes and Spreadsheet System, you also need to evaluate this to see how it has improved your Accounting System. If you cannot truly attest to the effectiveness of the Accounting System that you are using presently, This is the best time to consider switching to a more effective Accounting System.
Review Your Sub Contractor Data: Every Organization needs to confirm if they have paid anyone for services more than $600 during any given year; If you have, You are required to send a Form 1099 to the recipient by January 31st of every year. You have to ensure that the Subcontractor completed the information on the Form W-9 issued, at the inception of the Contract. Your Bookkeeper needs to update the 1099 Detail Reports and reconcile the amount paid during the year with the amount in the Books.
Reconcile your Expense Account Data: This is the best time to ensure that you look at your expense data and accept all reimbursement checks prior to December 31st. This will ensure that your Company will receive Tax Deductions for all the Business Expenses being claimed. You also need to ensure that you have all your Receipts Handy and properly filed.
Evaluate your Financial Standing: This is the best time to review your Profit & Loss Statements, Balance Sheets and general Ledger to ensure Accuracy and to make sure that all transactions have been recorded, so that you can get your Tax Deductions. Examples of Transactions to watch out for are as follows:
          1) Ensure that the Bank and Credit Card Accounts have been reconciled.
          2) Ensure that the Loan Interest has been separated from the Principal Amount and is accurately entered into your Books.
          3) Check for the Accuracy of Accounts Receivable and Accounts Payable.
          4) Write Off Bad Debts for Customers who are Noncollectable.



Make a Charitable Giving Budget Calendar: Charitable Gifts are some of the easiest Expenses to overlook, when it comes to itemizing Deductions. During the Year End, Gifts and Donations to Thrift Stores are easily forgotten. You can use this Holiday Season to make your Donations to your Chosen Organizations, so that you are sure of claiming them for the Upcoming Tax Season.
Review Your Personal Expenses: If your Business entity is a Sole Proprietorship or Partnership, then it's time to ensure that your Personal Expense is not co-mingled with your Business Expenses. You will have to get your Receipts and Cancelled Checks and record these expenses to your Company's Books. Many Tax Payers have ended up paying extra taxes needlessly because they overlooked Business Expenses paid from Personal Funds. 
 Re-evaluate your Retirement Plan: This is the time to find out if you are putting away enough money for your Retirement. Maxing out a SEP Plan or taking advantage of an Employer match can be your best option. The IRS limits on Tax deductible IRA Contributions can change just as the benefits an Employer provides changes. You have to find out if you are putting away enough to offset your Tax Burden.
Prepare an Income Projection: Most Organizations prepare income projections to gauge their income and expenses during the mid-year and year end; It's actually advisable to take stock every Quarter, Half Year and Year End. The Projection looks at your Cash Flow, Estimated Taxes for the Self - Employed, Stock Options, Bonuses and other things impacting your Income. This is necessary especially if your Profit increased substantially during the year, your Bookkeeper/Accountant will help you prepare and analyze your Books to see where you need to reduce your taxable income by implementing some last minute strategies. 
 Take your Bookkeeper to Lunch: Everyone knows that all Bookkeepers and Accountants are always busy starting from the Month of January through April of every year; We all have these Last - minute Questions, which we all need answers to at the last minute. Now is the Time to get them answered. Try to set up an appointment with your Bookkeeper/ Accountant, to find out what you can do better next year to help reduce your Tax Burdens. If putting together your information was challenging for your Bookkeeper/Accountant, Try to make the meeting over a meal or another token of appreciation. Otherwise if you have a less- than - ideal experience with your current Bookkeeper/Accountant, This is an ideal time to shop around for one that is a better fit. 
   Another Tax Season is about to start; Filing your Taxes will probably never be fun, but being proactive when you are not under a Deadline can help ease some of the burden and save you time and frustration when April Comes around. If you need help with getting your Books ready for Taxes, We are available to help you. Please Free to give us a Call on 202.422.4586. You will be glad you did.
/